Couple yoga strengthens the bond with your partner.
In Sanskrit, yoga means union, unity. It is a series of physical, mental and soul exercises. Yoga exercises will help you stay fit both mentally and physically.
But it doesn't end here, as it benefits individuals, it can also greatly benefit the partnership. Partner yoga practice builds teamwork, communication and trust.
Nowadays, it isn't an exception, that partners spend more time in their virtual world than together. We are so busy with phones and computers, that our own relationship often longs for attention and joint activity. Pair yoga is a type of yoga exercise designed specifically to strengthen the mental and physical connection with your dear half. It connects two people together through breath, touch, playfulness, movement and intimacy.
A nice picture isn't everything
Don't be dissuaded by challenging positions that you often see on social networks. Yoga is mainly about discovering, how to enjoy the presence and stop your head. Making a knot on your partner's leg isn't the main yoga goal :)
Let's have a look at some of the benefits that common practice can bring to our lives.
---
1. Let you - "Let it go" - literally let go
Each of us has a bad day sometimes, it isn't  uncommon, that we relieve our stress on our partner, without being our intention. Couple yoga teaches you how to let go the frustration and approach life in an easier way. It allows you to teach you to love what you have and not to take life so seriously.
2. Improves the physical and emotional support of the relationship
Both partners must be fully involved and dependent on each other to create a position and maintain its proper alignment. At the same time, confidence in the full support of the partner will grow.
3. Helps to bring partners closer together
Practicing yoga will show partners a new perspective on their problems and challenges of the everyday life. They will learn to see situations from different angles and not take them so seriously. When your communication is free and open, your life turns into fun. If you are going through a difficult period with your partner, paired yoga can be a beautiful tool to overcome this time. Incorporate yoga practice into your daily routine and improve your rapprochement.
4. It will help to understand each other better.
Touch is an important part of pair yoga. When you practice yoga together, your body parts touch, you can even feel the heartbeat of each other and the breath seems to become as one. This awareness will deepen your physical abilities and help you get into more challenging positions.
5. It promotes harmony
Every relationship get used to certain patterns. Some days your sensitivity prevails and you lose confidence, other times you are so emotionally alert that it is difficult for you to make a real connection with your partner. Pair yoga allows two people to clearly define their role of support and fully engage, creating the perfect balance.
6. It will bring you wonderful moments spent together
The time you spend together is priceless in today's hectic times. Yoga is an ideal combination of fun, body, soul and care. In addition, it improves trust and strengthens the partnership.
7. Improve mutual trust
When we learn to trust someone, our self-confidence increases.
These two beautiful mats were especially created to inspire the pair exercise, symbolizing the masculine and feminine elements, the harmony of ying and yang, balance and serenity. 
---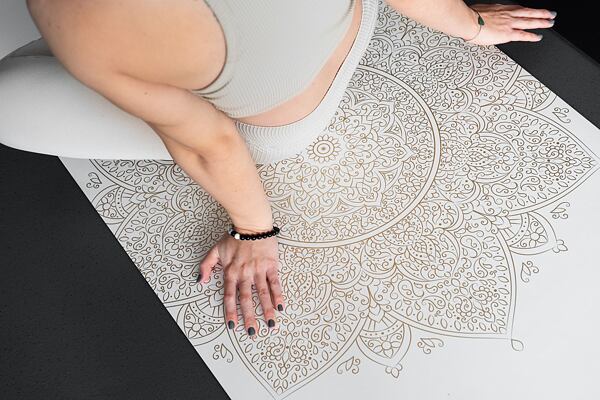 New collection 2022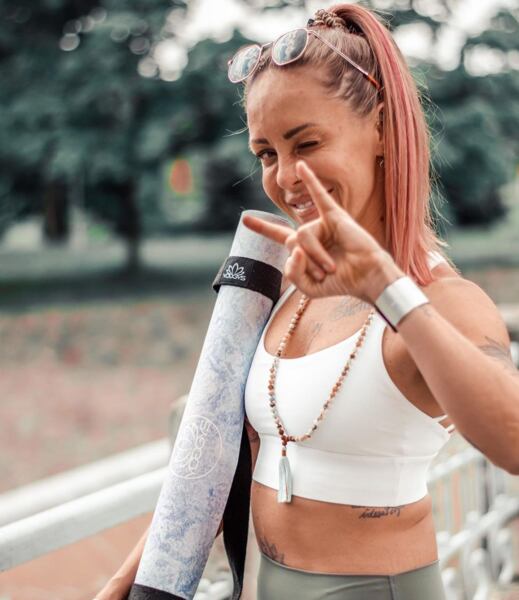 Hello dear yogis and yogic beginners,
Let me introduce you myself :) My name is Bara, you can find me on the instagram as @byvanilka, I am a flying soul to all corners of the world, a little bit hippie, a little bit punk, I love yoga and everything connected with it , and when I'm not traveling I teach, practice and sometimes I write something. Together with the girls from the Yoggys team we agreed to download our YOblogGGYS, so the articles you find here, will be created by me. If you are interested in anything or want to learn more about a certain topic, we will be happy for your feedback, because we create this place mainly for you. Contact me at barca@yoggys.eu
Whit love Bára