How often have you caught yourself addressing yourself hard, harsh, criticizing words? How many times did you had to put your well-being aside to cope with today's hectic stressful life?
Realize...
We live immersed in an alienating system, far from the natural rhythms of nature and indifferent to the physiological needs of the human being. Living seems like a great race against time, against everyone and even against yourself. The truth is, that it's ourselves, who spin this mad carousel of madness and malaise, and therefore it's only us who have the power to stop it and initiate the necessary change that our body and soul has been asking us for a long time.
Here, learning to take care of yourself becomes a right as well as a duty for a happier life and a world in harmony. A real mission to which we are all called, especially in this precise historical moment of great global change.
Try my 5 tips...
Make these 5 tips yours to start taking care of yourself lovingly and rediscover the joy and smiles to give to the people you meet, helping them in turn to understand how simple, useful, fundamental and beautiful it is to take care of yourself:
1. Observe...
Select your thoughts and get out of the usual self-sabotaging thought patterns. Thoughts trace the path you are walking, they are the tracks along which your life will flow. When a thought occurs in your mind, observe it, is it positive or negative? Is it false or true? Even if you find yourself having real and negative thoughts, this is your chance to fix them, to see more deeply what life wants to teach you. Every failure is never a failure but it is a way to know and improve, if only you want it. Remember that you are much more than you think, you are a unique soul with special gifts, use them and spread your wings.
2. Choose...
Choose healthy and sustainable foods for the planet. Giving yourself regular meals will make you more efficient because you will have the energy to face every challenge in the best possible way. Making the commitment to dedicate at least 3 healthy meals a day will remind you to stop and return to your center, to respect your natural and universal rhythms which you must never do without. Choosing your foods carefully, preferring the most natural, sustainable and less processed ones will help both the planet to pollute less, and your body to regenerate and return to health and so you too will feel more satisfied and charged to offer your help in the world , at work and to the people around you. Remember, if the Earth you live in suffers your body will also suffer and vice versa, we are all connected, which is why it is a right and a duty to be prioritized.
3. Inspire...
Feed your mind with uplifting thoughts. Surround yourself with people who can help you feel good, bring out your potential with respect for yourself, and live in harmony with the natural rhythms of the planet. If you do not find anyone next to you at the moment who can help you, perhaps you are called to make a difference in the place where you are, being the first to give an example of how to take care of yourself and others. Remember that you can nourish your spirit and mind through uplifting books and reading as well. They will be your most powerful armor and nothing and no one can scratch you. Your mood will improve along with your awareness.
4. Follow ...
Follow the passions of the soul. Write, paint, sing, dance ... in short, find out who you are, make friends with yourself to bring to light your innate talents and share them with those in need. Practice a sport regularly that makes you feel good, vital, and helps you to know yourself. Yoga and meditation could be your secret weapon. A new enthusiasm will also color the gray days and you will be able to improve the relationship you have with yourself and with others. Become responsible for yourself and build your destiny to the best of your ability.
Love...
Beloved Ones. Loving in Buddhism is "the desire to give happiness to others", but to do so it is necessary first of all to love oneself, to know how to respect oneself, without expecting anything in return.
Loving is the best thing you can do in this life, and at the same time it can also be the hardest at times. Love, unconditional, pure, devoid of attachment, is the most precious asset you have within you. A magical seed buried in the heart that is ready to grow and give you many wonders. Without love, life ends. Without love there is no reason to exist, there is no happiness. Don't be deprived of it by sick society, defend it. Indeed, let's defend it together by taking care of ourselves, always!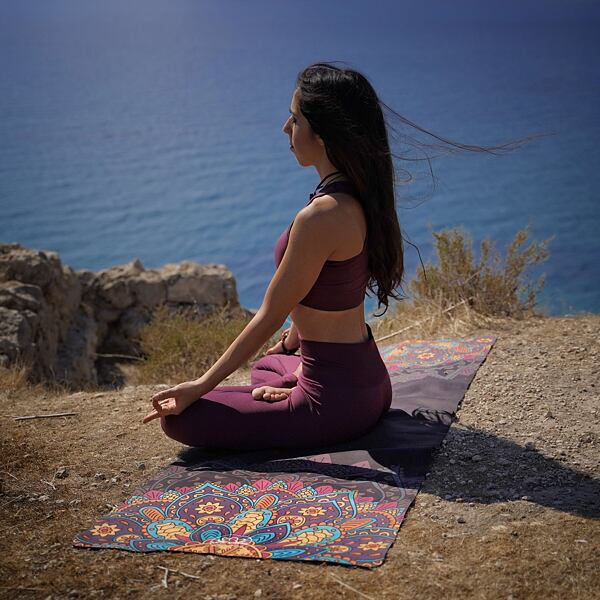 Ciao to all yogis and novice yogis
I am an yoga teacher with the international ODAKA YOGA RYT 500 certification. I was born and raised in Sicily, where nature and the close contact with the sea gave to my soul the opportunity to manifest its nature. I have been attracted to Eastern movement sciences since childhood. My life was accompanied by Ju-jitsu, where I reached the I Dan level in 2006. The art of movement became a form of meditation for me and in 2017 I became an Odaka yoga teacher. For me, Odaka is an evolution of past martial arts experiences. A powerful yoga sequence with the ability to live in the present, and an awareness of a process immersed in energy, intention, and love. I am very happy to share my experience with you through my articles on the YOblogGGYS.
With love, Vivian
Vivian Mil - Odaka Yoga teacher RYT 550 & Yoggys Ambassador
Instagram: ararisko_harmony_yoga_
"I already know that the flavor for life and the joy of being can be gained more easily from the actions of nature than from the actions of people"
- Jan Werich
THE NEW YOGGYS MAT
Especially for the topic of SELF-LOVE, we have prepared a new YOGGYS-MAT for you, which boast the name SHINE BRIGHT. It will shine a good dose of positive energy on your journey.