Who follows me on Instagram probably knows that traveling is a big part of my life and that I am often in different places around the world :)) I am currently in the sixth month of pregnancy and I am preparing for my next adventurous journey, this time with my baby bumpl. We already brought the little one with us from Thailand, then I had an expedition to Korea and now I am going to move to South America for a longer time, including childbirth. So, in fact, our unborn son could already be considered as a real traveler. :)
What can't be missing in my suitcase and how to deal when you're scared?
But what only few people know about me is that I am very scared to fly, and I fly a loot  :))) The more we avoid something, the stronger our fear becomes and because my motto is to try live a life without fear, there is nothing left but to fly, to fly, to fly. My experience of flying is growing, so I already know that every sound on the plane does not necessarily mean that we will crash soon and that the strange look of a flight attendant can only be her bad day. :)))
Every time when I travel to a new place, I have to have few things. Just in case of nervousness on board, I have my yoga MALA on my neck, it can be used beautifully as an object to calm your mind in any stressful situation. By counting the beads and repeating the mantras, or just your personal phrase "that everything will be ok", your mind get busy and you divert attention from fear. The feeling when you finally stand on the ground and you can go to see a new culture, a new adventure, a new experience, it's totally worth it! i a přede mnou je nová kultura, nové dobrodružství, nové zážitky, ale stojí za to! 
How to travel with a yoga mat?
Since yoga has become a part of my life, the mat travels with me everywhere.  Before I start using a travel mat (which is light weight and can be easily folded into a suitcase), I remember the common situation at check-in, when a 4kg heavy package with a classic yoga mat "swung" on my shoulder and I pretended that is just a yoga mat and weighs nothing. :)) I did it a few times before i discovered the travel mat.. I simply put it into a small bag and we are ready to go. I usually travel to the countries with hot weather and although I prefer the surface of professional mats (they have vegan skin as the top layer), in the summer i always use yoga mat with microfiber surface. They perfectly absorb moisture and are easy to clean.
What do you use a towel for?
Another "MUST HAVE" for ravelling to the high temperature is a towel that does not take up half the space of your suitcase and can be used for everything. :) Beach, blanket on the road, exercise, bath towel….remember the motto ...  The towel is a multifunctional invention that will help you out of many difficulties.
The Yoggys towel is super useful, it is extra absorbent, does not take up space, it is light weight and when I practice with some mat in local studio, I use it as a personal, clean layer over the local yoga mat.
You have to have a bottle
The thing I always have in my backpack, not only for exercise, is a thermo bottle. I don't like to buy plastic bottles and whether I'm preparing for the beach, excercie or for some trip, the bottle with water can't be missing. Proper hydration will boost your energy. In addition the thermo bottle keeps the water cold or warm for several hours.
The last important thing in my backpack is an aromatherapy spray. I always use it for my practice, it reminds me of the moment of peace that I am searching in yoga. In addition, I can clean and refresh my yoga mat with it, and thanks to the herbs it contains, it also works great as a repellent, which is so handy!
Besides other 198168518 girly things, that's probably all I need with me. :)) Inflatable suitcases are not discovered yet ... :(
---
Wherever you go, don't let anything disturbs your adventure and enjoy it to the fullest!
"..there is no paved path from the earth to the stars.. ."
—  Seneca roman phylosopher -4 - 65 př. n. l.

Zdroj: https://citaty.net/citaty-o-cestovani/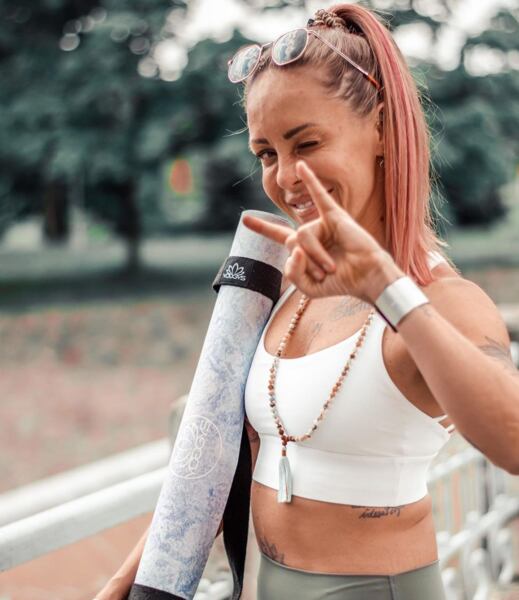 Hello to all yogis and novice yogis
Let me introduce you myself :) My name is Bara, you can find me on the instagram as @byvanilka, I am a flying soul to all corners of the world, a little bit hippie, a little bit punk, I love yoga and everything connected with it , and when I'm not traveling I teach, practice and sometimes I write something. Together with the girls from the Yoggys team we agreed to download our YOblogGGYS, so the articles you find here, will be created by me. If you are interested in anything or want to learn more about a certain topic, we will be happy for your feedback, because we create this place mainly for you. Contact me at barca@yoggys.eu
Whit love Bára