Morning or evening, summer calls for a fresh drink! Make a tasty and beneficial drink with our list of recipes for healthy summer refreshment.
We all like to enjoy a tasty fresh drink in the summer. The joy is doubled if it is also healthy! In this article, you will find recipes for 6 healthy drinks that anyone can make in a few minutes. Super easy to prepare and all the ingredients are easy to find in any supermarket or even better in the garden. Decorate with fruit or herb leaves, be creative and don't forget to add eco straw like a final tune your drink :)
! 6 healthy recipes for tasty homemade drinks!
Classic lemonade
Cut about 10 lemons into circles and put them in a large bowl. Sprinkle 100 g of citric acid, 1 kg of cane sugar (you can replace it with erythritol - sugar alcohol from fruit has 60-80% the sweetness of refined sugar, however, it does not contain any calories and has a zero glycemic index. Therefore, it is also suitable for diabetics) pour a liter of boiled water. Stir the resulting mixture thoroughly till the sugar dissolves completely. Let it cool overnight, and the next day pour the lemonade into a large pitcher with ice and dilute it with cold water. Serve with lemon slices.
Watermelon
Scoop out the flesh of the watermelon (6 cups) and remove the seeds. Squeeze the juice from the lemons (4 pcs). Put the watermelon in the blender, add lemon juice and honey (3 spoons or to taste). Mix thoroughly. Pour the watermelon mixture into a jug, add cold still water and mix carefully. Cool well before serving. Then just pour into glasses, you can add ice and maybe a mint leaf for decoration.
Popular Raspberry
Put 600 g of raspberries (preferably fresh, frozen if not possible) into the pot, 2 lavender flowers, cane sugar (or erythritol), sprinkle everything with the juice of half a lemon and cover with water just so that the raspberries are submerged. Bring to a boil and stir continuously. Let it cook for about 5 minutes, then mix everything with a stick blender and taste if the syrup is sweet enough.
It depends on the raspberries themselves - if they are pretty sweet, there is no need to sweeten them, but if they are sour, feel free to leave out the lemon and add more sweetener.
Cool the finished syrup completely and store in the refrigerator. When serving, put part of the syrup in a larger jug, cover it gently with sparkling water and add a handful of frozen raspberries.
Cucumber
Wash and peel 2 salad cucumbers. In the better version, leave the skin on as well, if the cucumbers are chemically untreated (from the garden, organic). Cut the cucumbers into pieces. Cut 2 limes and squeeze the juice out of them. Put the chopped cucumbers in a blender and blend carefully. Pour the blended cucumbers into a jug and add 0.5 l of water.
Put the mixture in the fridge and let it infuse for about 20 minutes. Then strain the cucumbers through a fine sieve into another jug ​​and top up with the rest of the water. Add lime juice. Sweeten the lemonade with honey. Mix the cucumber mixture carefully and cool it in the refrigerator. Serve on hot days as an excellent refreshing drink full of vitamins. Optionally, add ice cubes, a straw and decorate the glass with a cucumber slices.
Ginger
Peel about 60g of ginger, grate part of it and cut the rest into thin slices. Put all the ginger, including the hairs that are difficult to grate, into a pot and pour 400 ml of boiling water. Leave to infuse for about 10 minutes. Pour through a strainer, discard the ginger and add the juice of one lemon to the infusion and sweeten it sufficiently - ideally with honey, or cane sugar or erythritol. The result is a very aromatic and distinctive concentrate, which can be left to cool and stored in the refrigerator for several days. When you want to serve the lemonade, simply add cold mineral or spring water with bubbles to the concentrated infusion. The bubbles give the lemonade a pleasant zest and taste, while the minerals dissolved in the water add important elements that the body needs. The tested ratio is concentrate with mineral water 1:1, i.e. 400 ml of ginger extract and 400-500 ml of mineral water. Add citrus slices (lemon, lime, orange...) to the lemonade.
Mint
Tear off the mint leaves (1 handful). Put the mint in a blender, add a little water and mix carefully. Squeeze juice from lemons (2-3 pcs). Pour lemon juice into the blender with mint, add honey (3-4 spoons), again a little water and blend again.
Pour the flavored mint mixture into a jug, add water and mix well. Allow the mint lemonade to cool before serving. If you don't like pieces of mint in lemonade, you can strain the drink through a fine sieve. Serve mint lemonade with ice and a lemon slices. Don't forget to add a straw!
Prepare your favourite one even for a trip.
Take a look at the thermo eco bottles. Thanks to it you can avoid buying unnecessary plastic bottles and, in addition, they will keep your lime juice beautifully fresh all day.
---
He who enjoys good health is rich, although he does not know it.
"He who enjoys good health is rich, although he does not know it.."

Sourcej: https://citaty.net/citaty-o-cestovani/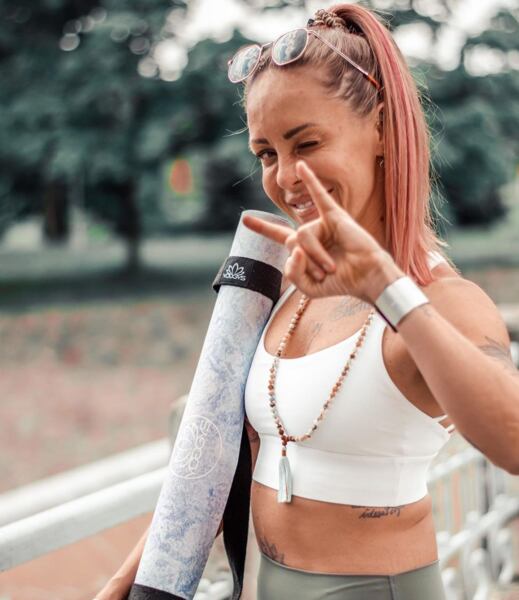 Hello to all yogis and novice yogis
Let me introduce you myself :) My name is Bara, you can find me on the instagram as @byvanilka, I am a flying soul to all corners of the world, a little bit hippie, a little bit punk, I love yoga and everything connected with it , and when I'm not traveling I teach, practice and sometimes I write something. Together with the girls from the Yoggys team we agreed to download our YOblogGGYS, so the articles you find here, will be created by me. If you are interested in anything or want to learn more about a certain topic, we will be happy for your feedback, because we create this place mainly for you. Contact me at barca@yoggys.eu
Whit love Bára