Ahoj jak se máš? Dobře díky a ty? A už je ne světě snad nejčastější lež.
Máme se opravdu dobře nebo se jen tak prezentujeme před světem? Zajímá okolí, co opravdu prožíváme? Nebo jsme se už naučili si svá trápení nosit v sobě a do světa vysílat jen naše šťastné a bezpečné hologramy?
Být šťastný je trendy..ale je to opravdu tak?
Nátlak na to jak být neustále šťastný je v dnešní době extrémní. Krásné fotky se na nás smějí svou dokonalostí a není divu, že nás nutí k přemýšlení o každodenní všednosti obyčejného dne.
Jak se rozhlížíme po vší té dokonalosti a spokojenosti, je úplně logické, že s ní chceme ztotožňovat a svá zranění si pěkně schováme. Tak jsme se naučili své štěstí nosit jako masopustní masku, pod kterou se často nahromadí spousty smutku a nepohodlí.


Ale co když v tom nejsme sami?
Jaké by bylo v bezpečném prostředí své starosti sdílet? Uvidět zranění svá i těch ostatních? Jaké by to bylo, kdyby se k nám směly vrátit všechny naše zraněné části a my bychom mohli být opět celí?
Toto by byla krásná cesta k našemu duševnímu léčení. A touto cestou se můžeme vydat jen my sami. Je úplně možné, že se tato cesta stane velkým dobrodružstvím, které nám odhalí ten nejskvostnější poklad.
Mezinárodní Den mentálního zdraví
Připomeňme si dnes ještě více že... štěstí je naší podstatou, naší esencí a každý krok na této cestě se počítá. Jóga je nádherný nástroj, který nám pomáhá vnímat sebe, své tělo i naše emoce a myšlenky. Jóga nás vede citlivě ale jistě k celistvosti a opravdovosti.
Zkusme dnes být sami sebou, hrdým originálem s všemi našimi schopnostmi, dovednostmi i s těmi šrámy, které si neseme a právě které nás mnohé naučily. Zkusme se kolem sebe rozhlédnout a ostatní vidět v jejich celistvosti a vyslechnout i jejich zraněné části.
"Pošetilý člověk hledá štěstí v dálce, moudrému roste pod nohama."
J. Oppenheim, zdroj:https://czechtheworld.com/citaty-o-stesti/#nejlepsi-citaty-o-stesti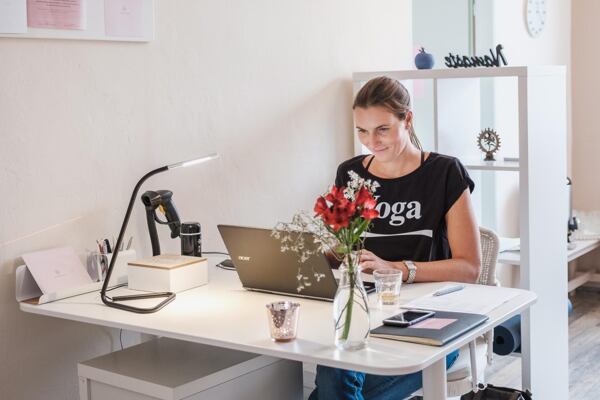 Ahoooj všem jogínům i jogínským nováčkům
Jsem Tereza. Jsem matka, kamarádka, lékařka, zakladatelka a majitelka studia Yogadream v Hradci Králové. S jógou jsem se seznámila před více než deseti lety v Německu a naprosto jsem jí propadla.
Jóga pro mě znamená napínavou cestu za poznáním sama sebe. Jedině, když sama vím, kdo jsem, jaké je moje vnitřní jádro, co by mohl být můj vnitřní zdroj energie, teprve potom mohu s radostí kráčet životem, plně a s pokorou přijímat dary, které mi život přináší, se zvědavostí a otevřeností potkávat lidi kolem sebe. A přesně tuto možnost mi nabízí jóga; být sama sobě zrcadlem, zahledět se pod povrch událostí v mém životě a stále více vplouvat do života v jeho nekonečné plnosti a celistvosti.
S tebou se chci o své zkušenosti s jógou podělit prostřednictvím YOblogGGYS.
S láskou Tereza Kertesz