HOW TO MAKE THE AUTUMN EASIER, WITHOUT BLOWING AWAY?
Blow, blow lovely breeze, let fall down a pear…
Yoggys has a special autumn surprise for you!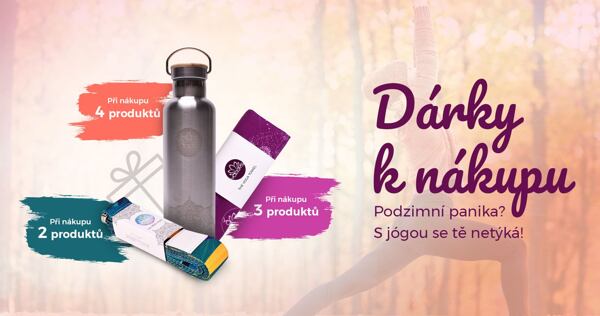 Let the autumn transformation affect you
The autumn is a period of transformation. In nature, we see it all around: the leaves fall down, the air changes and we harvest a new crop of fruits and vegetables.
It is important that we change with the seasons just like nature - by adapting our daily habits, practicing yoga and choosing food.
During the fall, try to schedule yoga exercises at the same time each day and for the same length of time. This will help build the routine. Practice yoga positions that focus on the lungs and colon, as these are the two organs associated with the fall season.
Shift to breathing techniques, stay in position longer, and focus on grounding. Use a strap in the stretching positions and give the body space to adapt to changes.
Which gifts do we have for you?
We will be happy to help you to enter into the autumn period, then when you buy 2 products (minimum purchase amount 60 Euro), now you will receive a stretching strap as a gift. And not only that, read on….
The body also needs to get used to lower temperatures. Go to the sauna. Your whole body is better oxygenated and the immune system is activated. When properly sauned, you will feel a calming effect, distressing feelings and sometimes even migraines can be removed. Not only in the sauna, but also as your clean personal layer over the studio mat, enjoy our smooth yoga towel, which you can get now for free, when you buy 3 products (minimum purchase value 100 Euro). Still not enough?
How else can you keep your body pleasantly warm in any weather? Make a ginger tea in the morning. Ginger will directly warm your body. Fill your Yogi-bottle - your thermo Eco bottle YOGGYS with it and you will see, that nothing will blow you away. You still don't got your bottle yet? We take care of that as well, so when you buy 4 products (with a minimum value of CZK 3,500), you will now receive our Yogi-bottle as a gift.
Choose 2 yoga props for a minimum value of 60 Euro and you will receive a stretching strap as a gift
Choose 3 yoga props for a minimum value of 100 Euro and you will get a small towel as a gift
Choose 4 yoga props for a minimum value of 140 Euro and you will receive a stainless steel eco-bottle YOGGYS as a gift