Yoga Mist - aromatherapy spray, which makes wonders and not only on your mat :)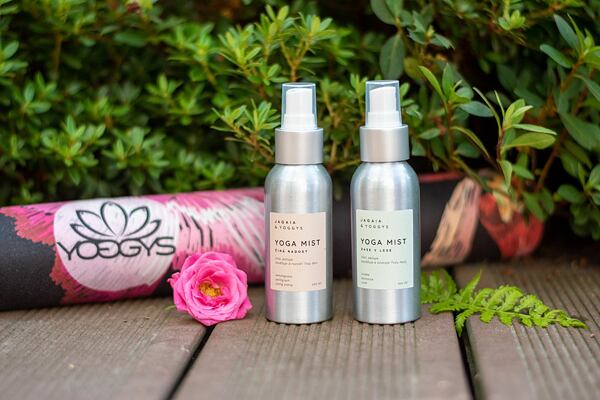 A beautiful day yogis, there's nothing you can do, but summer is just gone. It doesn't matter! Autumn also has its charm. :) You surely traveled a lot during the summer and took your best partner, your yoga mat with you everywhere. Therefore it must be perfectly dirty. :) What? You left it at home all summer !? Whether you find yourself in the first or second option, one thing is clear, your mat deserves special care now and you of corse too. But take the poor yoga mat with you next time. :))
Cleansing and aromatherapy
Yoggys girls think of everything. We are very happy to introduce you to a new Yoggys product - The Yoga Mist , which is the result of our beautiful new collaboration with Jagaia.
Jagaias girls create handmade natural BIO cosmetics from the best cold-pressed oils, essences and herbs.
What is yoga mist?
And what exactly is the "yoga mist"? We could say that it is a spray for cleaning your mat, but we would underestimate it a lot. And it certainly doesn't deserve it! Our yoga mist is a little bit  more. It combines aromatherapy and functionality in one product. Do you love purity and freshness? Before your practice, try to refresh your mat with a fragrant yoga spray, involve your senses and look forward to a completely new experience.
What scent will you choose?
We have right two variants for you:
The Yoga Mist "Pure Happiness" aromatherapy spray hide the fresh scent of lemon grass, orange leaves and Ylang Ylang flowers. It cleanses, cares and brightens your day. It encourages and recharges your energy.
The Yoga Mist aromatherapy spray "Magic forest" reveals the scent of pine, cedar and violet, which will take you straight to the lush forest immersed in the morning dew. Refreshes and harmonizes. It cleanses, cares and enchants your mind.
What will the mat cleaner bring you?
- Scent your practice with motes of herbs, flowers and citrus.
- It contains natural surfactant, organic essential oils and organic alcohol.
- It cleans sweat, dust, odor and dirt of all kinds from your mat.
- Treats sports equipment and refreshes the air.
- Made of natural biodegradable recipe.
- Disinfects and removes bacteria.
But not only that! You can use our Yogamist in many ways.
You can also use it as a repellant! It contains lemon grass, which is not only rich in terpenes, flavonoids and phenolic compounds that provide an antioxidant effect, but is also an excellent natural insect repellent
Packing:
- 100 ml sustainable aluminum spray bottle.
- Pure natural product without dyes and preservatives.
- Handmade with BIO raw materials.
- The packaging of the product will last you more than half a year by daily use.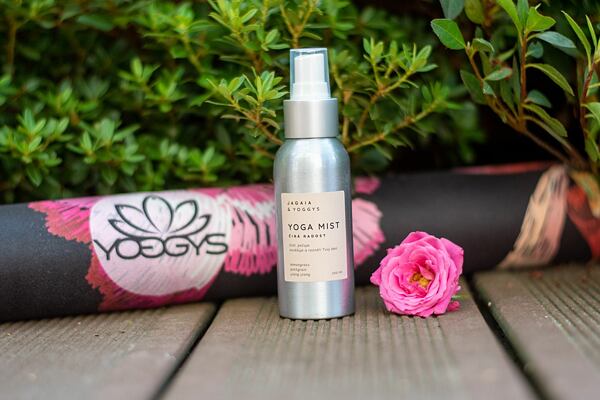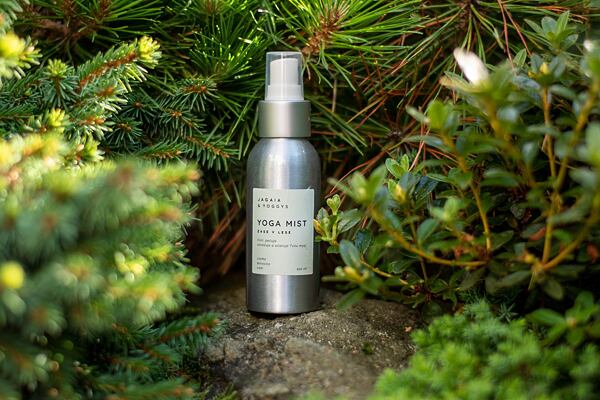 How to use the spray?
Just dampen a cloth and spray the mist two or three times on it and gently clean the entire surface of the mat. When used as an aromatherapy spray, gently spray in your surroundings, stop for a moment and enjoy the immediate feeling of the nature presence.
PS: We have a surprise for you. *with all not discounted cork, microfiber and vegan leather mats, you will receive our magic Yoga Mist, as well as a bag and strap for free as a gift for you. We wish you a beautiful and fragrant day. :)