How "spoiled" is your nose?
Our oldest sense
You probably won't know that smell is your oldest sense. Your nasal mucosa contains millions of olfactory receptors that are directly connected to the brain and send signals to it almost continuously. Furthermore, it also provides emotional reactions to surrounding objects.
As a little baby, your sense of smell made you able to recognize your mother or find something good to eat. This has aroused a feeling of security in you since you were a child. As an adult, you no longer perceive smell as much as animals, but that does not mean that you do not have this ability well developed, you just got a little lazy :)) Mainly because the sense of smell no longer serves you, at least in most cases not for your survival. Less emphasis is placed on it in modern times, which is a huge pity!
Fortunately, various methods of using our unique senses, for example in medicine or yoga and meditation, are once again gaining consciousness.
We have a huge olfactory memory, we remember how the Grandmamas cake smelled, how the bathroom smelled when Dad was shaving, or freshly made bed sheets.
I often find myself smelling and groping in my mind for a memory that fits right with that scent. I remember the evening smell of the forest at the children's camp, the smell of my favorite blueberry milk, or the smell of abraded knee spray, which was used almost daily at home :)) The smells are associated with many memories and with them nice and less nice emotional feelings.
What is aromatherapy?
Aromatic plants have accompanied the man on his journey for thousands of years. The ancient Egyptians used essential oils in medicine and cosmetics. There is a lot about medicinal plants in the Bible, and the ancient Indians valued the direct effect of fragrant herbs on the psyche, believing that fragrance was the soul of the plant.
When we talk about aromatherapy, it means a healing method in which we use the effect of essential oils on our body.
As a yogi, I often use an aromatherapy spray or diffuser with a few drops of oil on my watch, or I apply the oil directly on my wrist for the final relaxing massage. Not only me but also all students in the lesson will take a deeper memory and experience thanks to the direct involvement of the sense of smell and the effect of a particular oil and herbs.
Which scent should I choose for yoga?
Usually I choose the scent tip intuitively, but there are a few rules that I always apply. If my lesson is rather calm and receptive, I choose, for example, lavender, jasmine, ylang ylang or chamomile. Orange, pine, rose or tea tree go well with emotions. And if I want to pump you up a little bit :)) I prefer to use scents to support energy such as lemon, rosemary or cedar.
But the smell certainly doesn't just accompany my yoga classes, I've used strong perfumes for many years and the truth is that I still love when a guy walks by and smells beautiful :)) But what has changed? My nose is already looking for the natural scent of fruits, herbs, plants or essential oils, precisely because it reminds me of memories and generally suits me more well-being than heavy conventional perfumes. You will always find a bottle of natural aromatherapy spray and essential oil in my backpack. Then I want to remember all those experiences!
I want to remember all those experiences!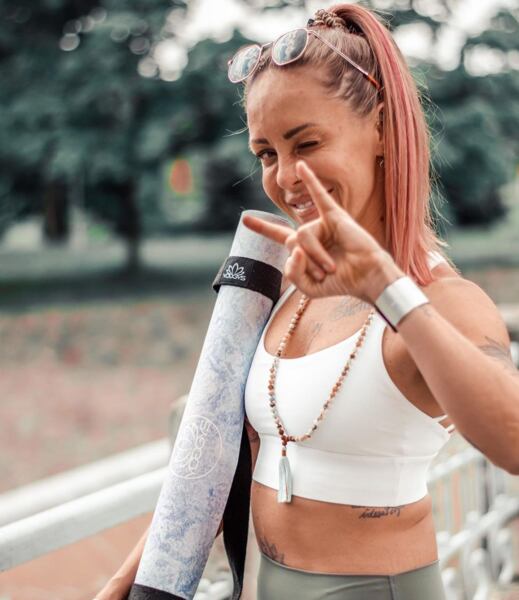 Hello dear yogis and yogic beginners,
Let me introduce you myself :) My name is Bara, you can find me on the instagram as @byvanilka, I am a flying soul to all corners of the world, a little bit hippie, a little bit punk, I love yoga and everything connected with it , and when I'm not traveling I teach, practice and sometimes I write something. Together with the girls from the Yoggys team we agreed to download our YOblogGGYS, so the articles you find here, will be created by me. If you are interested in anything or want to learn more about a certain topic, we will be happy for your feedback, because we create this place mainly for you. Contact me at barca@yoggys.eu
Whit love Bára