On what do you focus?
We usually tend to experience everyday dramas quite intensely, in recent years there is plenty of choice. But how are you with happiness made of small things? Do you notice them? Are you intentionally making your life lighter and more enjoyable? No?? Pitty!
With the hectic times filled with bad news waiting around every corner and with the media benefiting from human fear, our attention is often focused in the wrong direction. No wonder, unfortunately no one is spreading good news these days :( We have learned to feed the emotional body with horrors from all around the world.
Change your point of view
It takes a little work on your attention to reprogram the brain and focus on those absolutely necessary and beautiful little things, that make our lives unique and wonderful.
When you go back to work tomorrow, try to leave your phone in your pocket and watch what's going on around you. Spring is the most colorful season of the year, full of new feelings, scents, beginnings. Perceive… engage all the senses, notice what you see, hear, feel.
During the first sips of your morning coffee, try to stop your thoughts for a while and just enjoy your favorite taste and smell. Realize what a wonderful gift every new morning is, when you have the opportunity, focus your attention on the things that make you really happy.
Don't wait..
Don't wait for a big life event like a new job, a relationship or children to change your sense of happiness, change it right now.
To remind you that there is always a reason to laugh, we bring you a new, spring, fresh design, which simply has to enlighten at least a small smile on your face every time you unroll your mat.
 True and safe Happiness is much more a gift of the mind and heart than a gift of the outside world. - J. Capek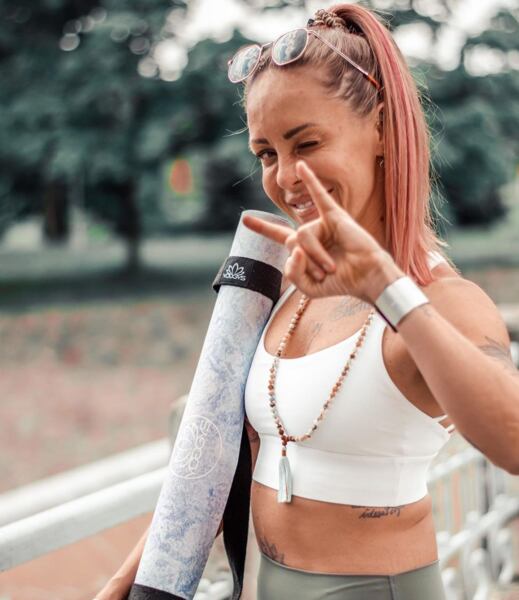 Hello to all yogis and novice yogis
Let me introduce you myself :) My name is Bara, you can find me on the instagram as @byvanilka, I am a flying soul to all corners of the world, a little bit hippie, a little bit punk, I love yoga and everything connected with it , and when I'm not traveling I teach, practice and sometimes I write something. Together with the girls from the Yoggys team we agreed to download our YOblogGGYS, so the articles you find here, will be created by me. If you are interested in anything or want to learn more about a certain topic, we will be happy for your feedback, because we create this place mainly for you. Contact me at barca@yoggys.eu
Whit love Bára