How big the connection is between diet and blood type? How much proper diet and blood groups affect each other? Can  you recognize yourself in the type of person that determines your blood type? If so, in addition to eating, you will definitely be interested in how mineral stones could support your energy ....
Peter D'Adamo perfectly describes the theory that a diet harmonious with our blood type benefits us in 1996. At present, his knowledge is expanded by dozens of specialists and we can read a lot about them. But how well is his theory proven?
Fans eating by blood type present great results, however, Western medicine still rejects the diet.
So what principles does the diet work on?
Each blood type has its own unique chemical structure and different antigens. Do you belong to group A? So there is antigen A in your blood, group B has antigen B, group AB has both antigens and group 0 has none at all.
The moment a foreign antigen enters our body, our immune system automatically initiates a reaction and forms antibodies that bind the foreigner to each other and destroy it. The process is called agglutination. The moment more cells, viruses or bacteria come together, they form a cluster, making it easier to kill them.
What blood type diet does it recommend?
Naturopath Dr. D'Adamo and his theory are based on the claim that each group expresses the genetic traces of our ancestors. Thanks to the historical development of man, according to him, certain types of food are beneficial or not for the given groups.
Type A - farmer, grower
A blood type A person thrives best with a plant-based diet and should eliminate "red toxic meat" as much as possible. Eating is similar to a vegetarian diet.
Lidé s touto krevní skupinou jsou trpěliví, vytrvalí, praktičtí, pracovití, pečlivě promýšlejí své činy a jsou výkonní
What minerals affect blood group A?
For people with this blood type, suitable stones are green (protects against problems) and blue tones (attract money, improve health): sapphire, turquoise, jade, celestial agate, moonstone, lapis lazuli, aventurine, emerald, jade, agate, green onyx, opal, topaz, onyx, jasper.
Type B - herdsman
Most types of meat are suitable for group B, they must pay attention to chicken and pork. They can also tolerate a limited amount of dairy products. But wheat, lentils, tomatoes and corn are unsuitable for them.
Very inquisitive people, inclined to new impressions. They hate routine, it is always necessary to feed them novelty. They can present themselves beautifully, care gallantly, they have a lot of charm. They are very emotional.
What minerals affect blood type B??
Suitable for them are red and orange stones (to stimulate mental processes), blue and green (to calm the nervous system): golden aventurine, citrine, carnelian, moss agate, pink quartz, coral, jasper, tiger's eye, serpentine, jade, celestial agate, moonstone, lapis lazuli, aventurine, green onyx, tourmaline quartz.
Type AB
This group is a combination of groups A and B. Seafood, dairy products but also tofu and legumes or cereals are very beneficial for it. Less corn, chicken and beef or beans.

Such people are kind and considerate of others. Emotional, creative, sensitive. They have wonderful taste, altruistic, benevolent, unbiased. Honest, fair, friendly, not vindictive. Their disadvantage is emotionality.
What minerals affect the blood type AB?
They combine the pros and cons of previous groups. The group is actively developing, but at the same time has weak immunity, so the same stones as the first blood group and also multicolored minerals are recommended for them. Turquoise, serpentine, jade, celestial agate, moonstone, lapis lazuli, aventurine, green onyx, jasper, tourmaline quartz.
Type 0 - hunter
It is very useful for a high-protein diet composed mainly of fish, meat and poultry, as well as certain fruits and vegetables. Less legumes, dairy products and cereals. Eating is close to the paleo diet.
This is the oldest blood type. Undisputed leaders and confident people. They have a stable will, a strong character and a desire for power. Straightforward, hard to change. They are constantly trying to conquer new peaks and move forward. They are strong in spirit and persistent, they don't like to waste time on little things.
What minerals affect blood group 0??
For people with this blood type, stones of the warm part of the spectrum from yellow to red are suitable (they help against stress, they add harmony), then purple colors (they add relaxation and love): golden aventurine, yellow onyx, citrine, carnelian, moss agate, ruby, rhodonite, coral, topaz, garnet, jasper, tourmaline, tiger eye, amethyst.
To summarize, blood group A is closer to a vegetarian diet, while group 0 is closer to a paleo diet. The other two are between these extremes.
Can diet by blood type really thrive?
Yes, but its usefulness is very individual and may not be directly related to blood type. Most of these tips can positively affect a person of any blood type. All of the above diets are based on the consumption of healthy foods and are the exact opposite of our normal diet, consisting of highly industrialized foods. Therefore, it is not entirely possible to say that the principles of the diet improve the condition, but we can say with certainty that by following certain dietary rules, we eat healthier. - which helps the body a lot.
 
---
It is also worth saying that there are many of us who suffer from lactose intolerance, celiac disease, or other intolerances. Therefore, a well-chosen diet can significantly help to improve our condition.
"...Blood is the rose of the mysterious union."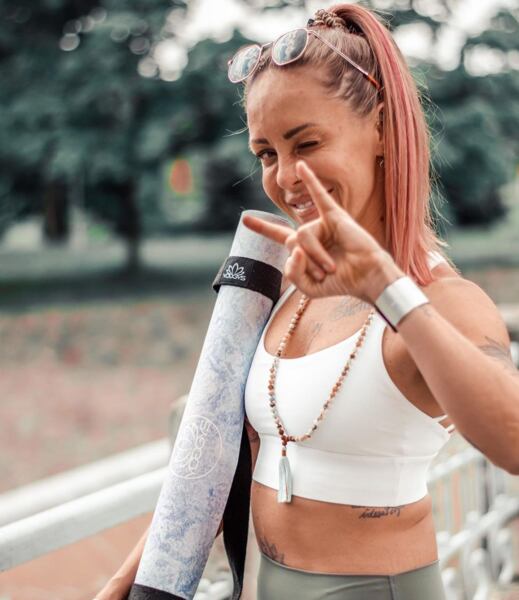 Hello to all yogis and novice yogis
Let me introduce you myself :) My name is Bara, you can find me on the instagram as @byvanilka, I am a flying soul to all corners of the world, a little bit hippie, a little bit punk, I love yoga and everything connected with it , and when I'm not traveling I teach, practice and sometimes I write something. Together with the girls from the Yoggys team we agreed to download our YOblogGGYS, so the articles you find here, will be created by me. If you are interested in anything or want to learn more about a certain topic, we will be happy for your feedback, because we create this place mainly for you. Contact me at barca@yoggys.eu
Whit love Bára