We would like to introduce you to a brand new YOGGYS community project called "MY MAT, MY STORY" .
We spend most of our time surrounded by people who have all one important thing in common and that is YOGA. Yoga not only unites us, but it also heals, motivates and inspires. Each of us has a completely unique and original flow, as in the life, as in yoga. Many times we came across a story that literally held our breath. We started playing with the idea that your stories deserve to be heard by more people, then it could become the initial impulse for someone to change or improve his live. That's why, from now on, you will find every month the story of a yogi and his journey on the mat at our blog YOBLOGGGYS.
Each journey is unique, let's meet Vivian
Each of us is unique and special and it is wonderful when we realize it and start to spread our wings. That is exactly what struck me in our guest of the month; from the first time I saw Vivian in a video, I was completely struck by how much strength and wonderful energy that girl expressed. Each movement was a message of the infinite, full of love and mystery.
But let's find out who is Vivian, also known to many as ARARISKO.
Anyone who sees you practicing immediately understands that you have your own style. How does it born?
Thank you so much for your loving words. In 2017 I specialized in the Odaka Yoga Style, a practice born in Australia by an Italian master, which is inspired by the movements of the ocean waves and blends with bushido and zen, favoring the release of tensions and the free expression of itself through a sweet conscious flow. This style allowed me to detach myself from the mold and connect with my rhythm and the way I feel to experience yoga on the mat and in life.
¨So when I started my journey in Acrobatic Dance, especially Pole Dance, my vision of Yoga with Wings arrived soon. A dance of the soul in which you let yourself go, transform your body and emotions to glide lightly high and put your wings on. Lightness is not superficiality and to acquire it you need discipline and constant training. When I move through the figures on the pole it is as if I were moving between the asanas, so I always say that for me the pole is like having transported Yoga from a horizontal dimension of the mat to the vertical dimension of the pole. Here wounds are healed, body and spirit are strengthened, self-esteem and this motivate you to always get up and fly.
How has yoga affected her life?
In my life, yoga was a salvation, a light in the dark. We all have tough times and fight our own battles. I was sick, I was not flexible at all, I didn't have a good perception of myself and my strong emotions were thumping me up and down. Yoga helped me to find balance, my oasis in which to find myself and that peace that is within each of us regardless of the circumstances. My thoughts and emotions have improved also my actions, which little by little continue to transform myself into the best version and into what I really am. When you start practicing Yoga with love and a sincere spirit, magic starts to happens, it changes the energy that you transmit and that surrounds you, I got rid of what was not functional to my well-being by making room for better things, I met wonderful people, who inspire me every day and I also met you and your passion that made your mats so special.
Which is your recipe for happiness that everyone is looking for?
There is no single recipe for happiness. We shouldn't think, that we can always be only and exclusively happy, this is not enlightenment. It sounds sad but it isn't. Life is made up off moments to be lived, this means that we must be the ones to live the moments in a functional way: that is, in such a way that every moment enriches us internally. Every obstacle is a teaching and every difficulty is an opportunity to evolve and shine as souls of light and love. So do not let yourselves be lived by emotions, free the mind from its chains and bring it back to the service of the soul. Make peace with yourselves to find that hidden oasis of peace, happiness and harmony present within each of us. Make sure that every thought, every step, every action you take is a gesture of pure love and happiness will spontaneously resurface from your soul like a lotus flower.
We saw you on television some time ago, can you tell us about this exciting experience?
As I said, Yoga and my special way of living and teaching Pole Dance led me to make new encounters and experiences, including the one in television on Rai 1 Linea Verde Life. I am grateful for having been able to broadcast my vision and my Yoga With Wings on a national television channel, followed by all here in Italy, explaining the benefits on a physical, mental and spiritual level and letting the host Daniela Ferolla experience it directly.
I remember seeing me spinning on the lyrapole (the aerial circle mounted on the pole) Daniela stiffened a bit, thinking she could not. We started preparing and warming up on the floor on our mats, the horizontal dimension in which to become aware of one's physical and emotional state and awaken the body through the sweet flow between the asanas and then we moved up to the pole, the vertical dimension, in which abandon fears and fly towards our dreams, towards what seemed impossible, towards a happy heart full of love energy. In the end Daniela was amazed at herself, I still remember her smile, the one I see in each of my students and it reminds me of mine when I started.
Yoga with wings is an experience to be lived, it is Ararisko, which means the art of rediscovering harmony, it is discovering that in the end you don't need wings to learn to fly.
with love Vivian
Do you want to share your experience with us too?
It doesn't matter how far you are on your yoga journey, nor how little interesting your story seems to you. Each one is completely original and we will be very honored to share your path. Write us your story and let's inspire somebody else to a more healthy and colorful life.
---
New collections 2022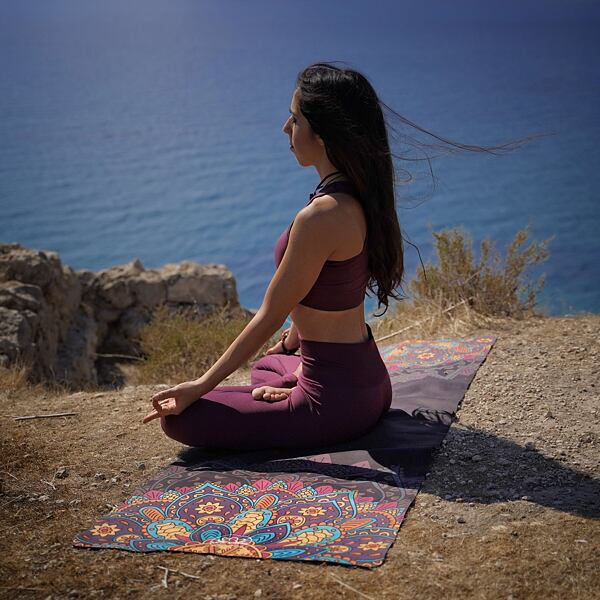 Ciao to all yogis and novice yogis
I am an yoga teacher with the international ODAKA YOGA RYT 500 certification. I was born and raised in Sicily, where nature and the close contact with the sea gave to my soul the opportunity to manifest its nature. I have been attracted to Eastern movement sciences since childhood. My life was accompanied by Ju-jitsu, where I reached the I Dan level in 2006. The art of movement became a form of meditation for me and in 2017 I became an Odaka yoga teacher. For me, Odaka is an evolution of past martial arts experiences. A powerful yoga sequence with the ability to live in the present, and an awareness of a process immersed in energy, intention, and love. I am very happy to share my experience with you through my articles on the YOblogGGYS.
With love, Vivian
Vivian Mil - Odaka Yoga teacher RYT 550 & Yoggys Ambassador
Instagram: ararisko_harmony_yoga_