World Smile Day has been celebrated since 1999. The initiator was Harvey Richard Ball, who in 1963 created the "smiley face", a symbol of happiness and goodwill. This day is meant for good deeds, good mood and for understanding the power of a smile that makes our days more beautiful.
A smile and its unique power
Although you may not be in front of the camera, there are many reasons why you should smile more often. A smile has a positive effect on your physical body, psyche and your surroundings. You will get all these benefits only by deciding to smile more at the world :)  Let's take a look together at what place laughter and smile have in our life.
Smile..
A smile has a positive effect on your physical body, psyche and your surroundings. You will get all these benefits only by deciding to smile more at the world :) 
Looking for reasons to smile? You can think of countless of them. Start, for example, by smiling at the world just out of gratitude that you are and that you have been given the opportunity to live your life on this earth. And because most things depend on the settings in your head, just set yourself to be happy for at least a moment every day. (Advanced people can be happy all day. :)) Try it, it's not that difficult. Think of one thing every day that you could be happy about. Believe that there is always something to be found.
Let's take a look together at what place laughter and smiles have in our lives
We can list here all the possible hormones that flood our body when we laugh or smile. And there are not just a few of them. But it would only be facts that are certainly more or less known to us. We all know that smiling is good for us in some way. I don't think it's that important how many and what hormones it flushes out. What is more important is how we actually feel when we smile and what emotions are triggered when we smile from ear to ear.
Since ancient times, the human race has been able to express certain emotions through facial expression. If you search, you will read that the first human smile goes back at least 30 million years, and that is already some time!
Why laugh?
With the help of a smile, most of the time we show a positive mood and emotions such as happiness, joy and satisfaction. We can also see it when a person is nervous or exposed to an unpleasant situation. Why? It is actually an automatic defense of the body, which literally tries to relieve and reduce the tension of the given moment. Even so, a smile can serve us well.
A huge advantage of laughter is its contagiousness :) Who among you remembers how we used to be able to laugh as children and there didn't even have to be a valid reason? It was enough to make each other laugh, and a fit of laughter, whether during a meal for which we occasionally caught a few slaps or in the school desk, was born. Spontaneous, unforced and highly contagious laughter. Sometimes we laughed so long that our stomachs hurt. For us adults, such a "fit of joy" is almost impossible. What is it caused by? Excessive seriousness of the adult world, excessive control and suppression of the manifestations of one's natural emotions. And that is a great pity!
How to bring laughter back into your life?
Because we've fallen a little short of our "laughter training" over the years, many of us can't just laugh and laugh naturally. But we can trick our brain a little. The brain cannot tell the difference between a genuine laugh and a fake laugh. That's why in the beginning you can just practice laughing and it will have the same positive effects for your body as if you really laughed sincerely. That you will feel stupid? Try it when you're alone at home and no one sees you doing it. After a few tries, you'll find that you haven't forgotten to laugh and actually still enjoy it.
And do you want to have even more fun? So, with such training, try to record yourself sometimes and then watch it, we are sure that you will definitely smile "at yourself" at least once. :)
Why all this?
Thanks to laughter, your body starts the healing process in the form of pain relief, improvement of the immune system and lowering of blood pressure. At the same time, it flushes out hormones of happiness, relieves the feeling of stress and tension. In addition, you will sleep better and your work will become more cheerful and easily more efficient.
We live in a world where ego plays a big role. Many of us hide our true nature behind the masks of managers, bosses, politicians, professors and other would-be important people. Our position often does not allow us to express a simple feeling of happiness or sympathy. Let's not let the illusion of a serious face mask rob us of something as beautiful as a smile on our face, or even better, a dedicated smile that can make someone's day better :)
Smile and happiness
If we are happy in our life, we don't need to learn how to smile. It easily becomes a part of our days. Each of us has a different path to a happy life. However, as we mentioned at the beginning of this article, we can influence most things and situations simply by our mindset. It seems complicated, but it is so simple.
But one thing unites us all. Happiness is not found in the future or the past, and certainly not in the material things that we often surround ourselves with in search of happiness. The past is already gone, the future is just an illusion, and material things only give us a flash of a quick feeling that doesn't last long. We find happiness only in the present moment, in understanding the infinity of the world, its perfection and unity. Only when we realize that happiness does not have to be sought, when we can still our turbulent thoughts and emotions, only then can we find a sense of peace and true happiness. The feeling of peace and true happiness comes when we realize that we don't have to look hard for it, that we just need to quiet our restless thoughts and emotions and draw attention within ourselves.
Tip: Even with a small gesture, you can remind someone that you care about them and suddenly receive a smile as a reward. Materialism has never made anyone eternally happy. However, with a little attention you will make everyone happy. Or make your own journey to laughter easier, for example with aromatherapy, which will help you feel relaxed. You can test your laughter in the presence of the pleasant scent of a scented candle or boost your courage thanks to mineral stones.
---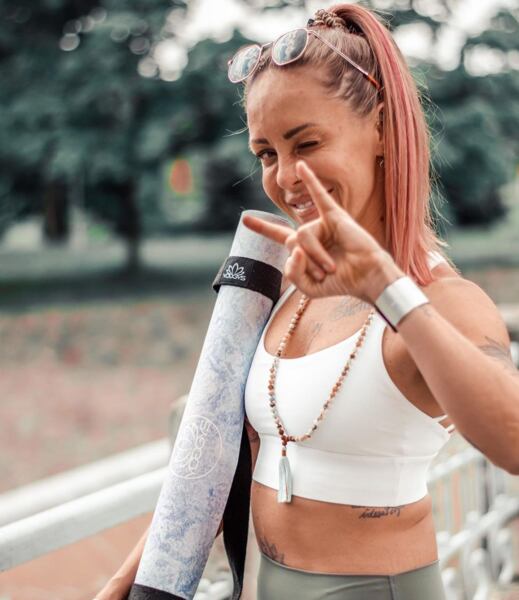 Hello to all yogis and novice yogis
Let me introduce you myself :) My name is Bara, you can find me on the instagram as @byvanilka, I am a flying soul to all corners of the world, a little bit hippie, a little bit punk, I love yoga and everything connected with it , and when I'm not traveling I teach, practice and sometimes I write something. Together with the girls from the Yoggys team we agreed to download our YOblogGGYS, so the articles you find here, will be created by me. If you are interested in anything or want to learn more about a certain topic, we will be happy for your feedback, because we create this place mainly for you. Contact me at barca@yoggys.eu
Whit love Bára