YOGGYS team léto miluje! Co tě čeká se dozvíš zde :)
Letní energie je dynamická a pulzující síla, která prostupuje celou naší atmosférou během nejteplejších měsíců roku. Jak slunce jasně svítí a příroda kvete, je patrný posun v energii, která nás obklopuje. Je to doba, kdy se lidé cítí motivovanější, dobrodružnější a propojenější s okolním světem. Využij toho, jak? ...
Zkoušej, objevuj..
Jednou z klíčových vlastností letní energie je její schopnost nás inspirovat a pozvednout naši pozitivní náladu. Delší denní světlo a příjemné počasí vytváří příznivé prostředí pro outdoorové aktivity, setkávání a poznávání.
Tato energie nás povzbuzuje, abychom vystoupili ze svých komfortních zón, zkoušeli nové věci a přijali radost ze života v přítomném okamžiku. Letní energie je často spojována se zvýšeným pocitem vitality a nadšení. Sluneční teplo posiluje naše těla a přirozeně pociťujeme větší sklony k pohybovým aktivitám a pobytu v přírodě. Tento nárůst fyzické energie může napomoci snáze zařadit do života něco nového ke zlepšení kondice a celkové pohody.
Využij toho a zajdi na lekci jógy třeba někam do přírody :)
Letní energie podporuje pocit sociálního spojení. Lidé mají v tomto období tendenci být otevřenější, vyhledávají příležitosti k setkání s přáteli a rodinou, k účasti na akcích pod širým nebem nebo k společné dovolené. Pulzující energie léta usnadňuje smysluplná spojení, smích a vytváření cenných vzpomínek.
Letní měsíce také nabízejí ideální příležitost k sebereflexi a osobnímu růstu. S množstvím přírodních krás a obecně uvolněnějším životním tempem se stáváme otevřenější introspekci a hledání vnitřního klidu. Ať už je to meditací, cvičením všímavosti nebo zapojováním se do kreativních činností, letní energie nás povzbuzuje, abychom se hlouběji ponořili do našich vlastních aspirací, cílů a tužeb.
Na co si dát pozor?
Stojí za zmínku, že se zvýšenou energií a aktivitou je nezbytné udržovat rovnováhu a upřednostňovat péči o sebe. Zůstat hydratovaný, chránit se před nadměrným horkem a dostatečně odpočívat je životně důležité, aby sis naplno užili léto bez pocitu únavy.
Nech se vést letní energií, pusť se do nových zážitků, prozkoumej okolí a užij si radost z ročního období na maximum :)
A NAVÍC.....
CELÝ ČERVENEC TĚ ČEKAJÍ YOGGYS LETNÍ SLEVY!
-25 % na vše s kódem SUMMER25
"Uprostřed zimy jsem v sobě objevil věčné léto."

Zdroj: https://citaty.net/citaty-o-lete/?o=popular."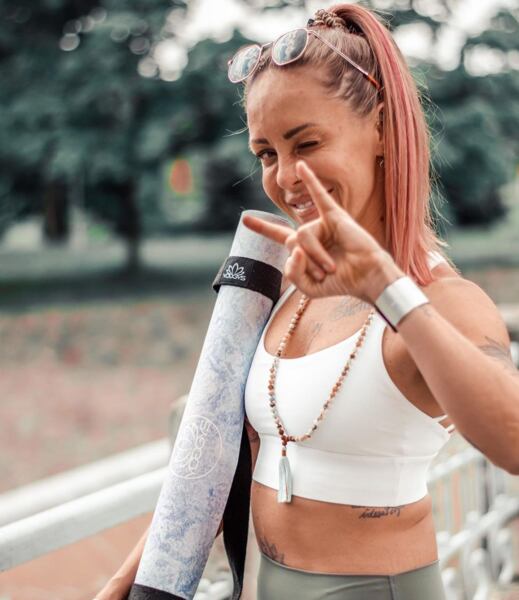 Ahoooj všem jogínům i jogínským nováčkům
Dovol mi se ti trošku představit. :) Mé jméno je Bára, můžeš mě najít na Instagramu jako @byvanilka, jsem rozlétaná duše do všech koutů světa, trošku hipík, trošku punkáč. Miluju jógu a vše s ní spojené. No a když zrovna necestuju, tak učím, cvičím a občas něco napíšu. S holkami z Yoggys teamu jsme se domluvily, že si přeberu náš YOblogGGYS takže články, které tu najdeš budou ode mě. Kdyby tě cokoliv zajímalo nebo si se o určitém tématu chtěl/a dozvědět více, budeme vesmírně rády za tvou zpětnou vazbu, protože tohle místo tvoříme hlavně pro tebe. Napiš mi na bara@yoggys.eu.
S láskou Bára