Have you ever thought about it, why is yoga so popular and becoming more & more part of people's lives every day ...
It is unthinkable to try to answer in one word, perhaps it is: a healing, strengthening, calming and harmonizing practice that offers something for everyone, regardless of age, gender, race, size, health, origin and yes, even fitness level!
You don't believe us?
Read some of the following reflections on why yoga should be a part of our lives.
It relieves stress
Yoga is a real relieving stress tool, that benefits people in all areas of life. In yoga, you learn to pay attention to the breath, which can change your thinking and emotional state. When you slow down and take a deep breath, you relax the parasympathetic nervous system, which relieves anxiety and tension. It doesn't matter who you are; Once you find out how strong the connection with the breath can be, you will be happier.
It strengthen your body
So many beginning students can't believe how challenging yoga can be. After the first lesson, thoughts are often such as, "I never thought it would be so hard! Stretching is uncomfortable. "Yes, such yoga can be. It is a powerful tool for our growth. It teaches us patience and perseverance. When you practice yoga, you mostly use only your own body. Yoga helps to develop the strength of the core, which supports the active involvement of the internal muscles and the body thus holds better in the different positions (asanas).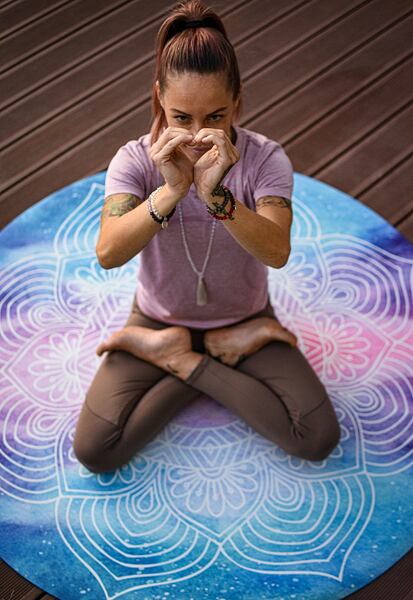 It is a tool to gain flexibility
Yoga is an irreplaceable tool for gaining flexibility. How to open the body, heart, lungs, how to relax joints, muscles but also the mind.When you start yoga, your main task is to get out of your comfort zone and demolish the imaginary limitations you created. You will find that the breath will help you go deeper into any position and your body will allow you a little more every day. It's a process and takes time, but the more honest you are about yourself, the sooner you'll see progress. Relieving tension and stretching the body is such an amazing feeling that yoga will quickly become your healthy addiction, without which you can no longer imagine a usual morning.
It connect us to our inner selfs
In yoga, your attunement is focused on your own inner voice and you are fully present. Yoga is a non-competitive, lifelong journey. The more you recognize yourself on the mat, the easier it is for you to be authentic in the ordinary world.
Yoga can be practice everywhere and by everybody
All you need to practice yoga is your body and your breath. You pack the travel mat in your backpack and create your meditation oasis really anywhere.
It is for everybody
It is unrivaled and adaptable to every condition, size, gender and age group. Because yoga is universal, you can adapt your practice to your own body. Each position has certain rules that are good to follow, but the scope of the position depends on you. We learn to listen and know our body.
It is funny
Yoga awakens a playful child in you again. You can turn upside down, stand on your head, roar like a lion, try all the fun shape positions and even take a nap at the end of the workout. It's one of the few times you can lose control and be free.
It will keep your body young and agile
You can practice yoga for the rest of your life and use it as an aid to maintaining a young and agile body. The more you learn to rely on yourself and discover the power of your breath and potential, the stronger and more confident you will feel.
And finally..  yoga changes lives
Yoga has literally changed our lives and we think it will change yours as well. If you start training right away, be careful - you may discover something so magical that you will never return to what you were before.
Whenever you wants to recharge and recover, clear your mind, gain slimness, flexibility and strength, improve your balance or get back in contact with yourself, just unpack the mat, stretch and breathe!
Namaste lovely souls