Cooled down in summer not only by the water but also by yoga, meditation or breathing techniques. Stay focused, healthy and happy with few simple yoga practices. Summer time means different things to different people. Time for a vacation, go to the beach and relax or even tiring long hours in the office, when the temperature of the body and air rises more than pleasant. As much as we observe summer, one thing is constant: it's hot, but it's really hot.
The seasons flow one after the other and each brings its changes. You can easily be aware of the changes and act in accordance with each season. Follow some best practices to ensure your body and mind to stay fit.
Here are some tips on how to keep COOL at any temperature:
The secret is in your breath
Next time you wait for the bus or have a few minutes before you go to work, try the SHEETALI rental.
Stick out your tongue and roll the sides of your tongue into a roll. Inhale through the roll of the tongue, hold your breath and exhale through your nose. With each breath, you can feel the body cool through the mouth.
Repeat 5-10 times.
Hold your spine sraight
For proper posture during breathing techniques or meditation, it is better to support the buttocks with a yoga pillow. What makes this pillow different from the ordinary we have at home? It is filled with buckwheat bran and therefore does not fall out like a classic soft pillow and keeps our body in the right position. The yoga pillows are also an original decoration to your home. We also recommend bolsters to deepen relaxation.
Hydrarte
The more you hydrate, the better. Our body is 70 percent water, especially in the summer we should provide it with a sufficient supply of fluids.
The body is often accustomed to low fluid intake and it no longer feels thirsty. Keep your YOGIBOTTLE with you at all the times and you will have an overview of how much you drink.
Slow down
Yoga positions practiced gently and consciously, balance the mind & body and are beneficial at any time of the year. Shavasana and meditation are especially good in summer. Slow down your practice. Any physical activity raises body temperature. Therefore, it is better to avoid excessive or strenuous asanas when it is hot. The best times to practice yoga during the summer are early in the morning or late in the evening. During the day, go and take a bath and don't forget the quick-drying yoga towel, which will make it easier not only to practice yoga, but also for staying on the beach.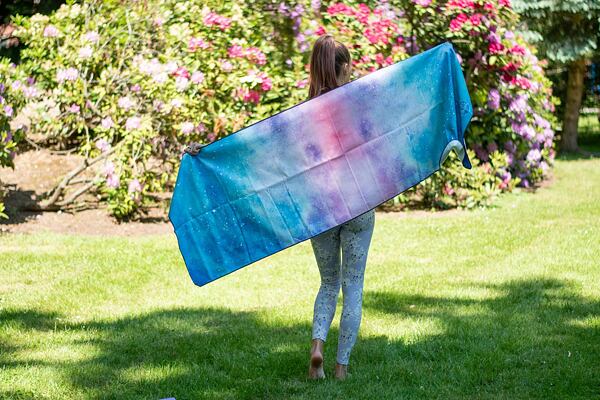 Rest enough
Lie down in the position of a corpse - Shavasana near the wall. Lift your legs and lean them against the wall. After holding for one or two minutes, put your feet down and rest. This position is refreshing and regenerating. How does it work? Because our heart works faster at high temperatures, we help bring the blood back to the heart by gravity in a position with our feet up, making it easier for it to work properly.
Have a nice summer with YOGGYS.